逓信省型式試験合格受信機
Radio set Passed Examination by The Ministry of Posts and Telecommunications

第57号 ヘルメスM-4型 高一付4球受信機 大阪無線(株) (1948-50)

No.57 Hermes Model M-4 The Osaka Musen Co., Ltd. (1948-50)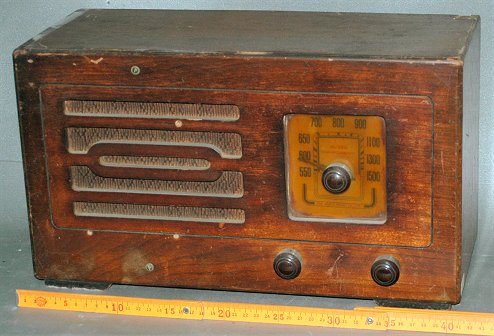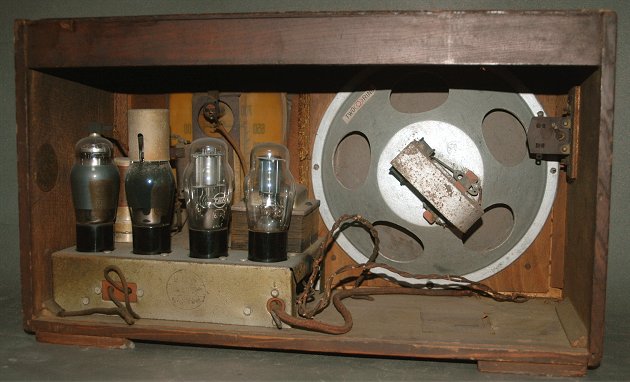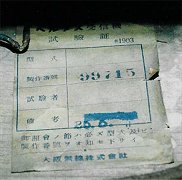 TUBES: 6D6-6C6-6ZP1-12F, TRF, Magnetic Speaker (Paper Framed)

戦前からの中堅メーカー、大阪無線の国民型受信機。
1949年にパーマネント・ダイナミック・スピーカを使用するM-45型が追加された。M-4型とM-45型は、細部を除きデザインは同じである。
貧弱なセットで、戦前には日本楽器製キャビネットを採用した高級受信機で知られるヘルメスの面影はない。
本機は1950年製で、国民型受信機としては最後期の製品である。

Hermes was well known as the brand of high grade set at pre war.
However, their ability as the manufacturer of hi-end set was lost by war.

This was TRF set with magnetic speaker. In 1949, model M-45 with dynamic speaker added.
This was additional model with small dynamic speaker.
The design and quality was poor.
Cabinet and chassis were similar to Model M-45 except design of dial.
This model was continued production until 1950.
This was one of the latest model of Japanese TRF set.
(Collection No.11230)