放送協会認定受信機
Approved Radio by NHK

放11163号 トヨタ K-2-C 国民型2号A受信機 トヨタ自動車工業(株)刈谷南工場 1947.5.16認定

Approved No. 11163 TOYOTA Model K-2-C Type Kokumin-gata No.2-A Toyota Motor Co., Ltd. Kariya South Factory (Approved at 16/05/1947)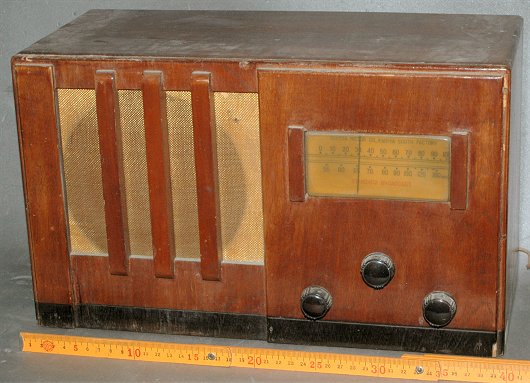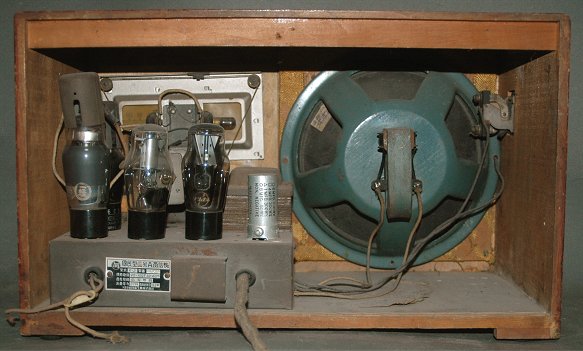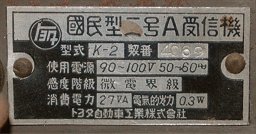 TUBES: 6D6-6C6-6ZP1-12F, TRF, Magnetic Speaker

戦後、自動車生産を禁止されたトヨタ自動車が平和産業転換のために生産したラジオセット。刈谷南工場は電装品の工場で、現在は独立して自動車部品メーカ大手、デンソーとなっている。6D6-6C6-6ZP1-12Fでマグネチックを駆動するごく標準的な国民型受信機である。品質は高いとはいえないが、当時の業界標準を超えるレベルである。決して高級ではないがキャビネットは頑丈に作られているほか、標準装着の真空管にはトヨタのマークが入っている。苦し紛れに参入したといっても、製品は力を入れて作られている。

1949年10月、自動車の生産はほぼ全面的に許可された。同社はその後1951年頃までラジオの生産を続けるが、朝鮮特需により本業が復活することで撤退する。資料には「アポロ」というブランドが見られるが、実際のセットにはどこにも表記がない。

本機には、鉄フレームのマグネチックが付けられている。これは戦前のものと思われ、オリジナルではないようである。また、真空管やコンデンサが交換され、長く使われたように見える。

参考文献

『創造限りなく トヨタ自動車50年史』 (トヨタ自動車(株) 1988年)
After the WWII, The production of Military industry and heavy industry were prohibited by GHQ.
8/12/1945, GHQ parmited
GHQ permitted for reconvertion from war production and for resumption of production of essential civilian commodities to Toyota Motor.
Many subsistence commodities were lost by war.
Military industries changed into peacetime industries to continue own business.
The production of automobile was prohibited.
Toyota Motor started production of farming implements, cooking tools, and radio.

The Kariya south factory produced electric parts for automobile.
Toyota tried to develop auto radio in early 1940's. This set manufactured in this factory.
This set was typical Kokumin-gata radio.
Quality was poor but this was avarage level of Japanese industry.
This model was designed and manufactured earnestly.

At 10/1949, The production of automobile was permitted completely by GHQ.
Toyota Motor continued production of radio until 1951.
Toyota withdrew from production of radio by reconstruction of automobile industry.
The Toyota radio's brand "Apollo" appeared on the registration document.
However, Apollo did not indicate on the set.

This factory became independent of Toyota Motor Co., Ltd.
This factory became Denso Ltd.

Speaker may be replaced. Tubes and capacitors was replaced.
(Collection No.11239)