The system of approval and recommendation was certification for submitted sample. Test sample kept by Nippon Hoso Kyokai. If the sample passed test, approved number was given to manufacturer. They could indicate approval and recommendatory mark on their products and advertisement.

Approved number consists of 5 digits of numbers.
First 2 digits means types of radio and parts, Last 3 digits means registration number start from 011.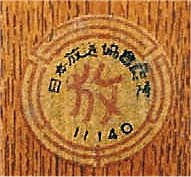 "recommendatory Mark" of Nippon Hoso Kyokai

Certification Number (except for radio parts)
Without notice, Speaker is magnetic, Frequency range is 550-1500kc AM only.

(Bold character is newest updated)
No.
Photo
Brand
Model
Manufacturer
Note
Price(JPY)
Date
Type
Tubes
11011
Hudson
32
Yukawa Denki Seisakusho
Switched from old approval
30.00
10/31
0-V-1
227-112A-112B
11012
Switched from old approval
11013
Switched from old approval
11014
Nanaola
70
Nanao Radio Co., Ltd
Switched from old approval
37.00
32 or 33
0-V-1
227-112A-112B
11024
Crown
424
The Nihon Seiki Co., Ltd
35.00
07/35
TRF
24B-24B-47B-12B
11026
Crown
347
The Nihon Seiki Co., Ltd.
26.00
13/09/35
0-V-1
24B-47B-12B
11036
Aria
Meirou-go A/B
R-12
Seinen 2 D
Mitaka Denki Seisakusho
27.00


23/12/35

37
0-V-2
227-226-112A-112B

27A-26B-12A-12B
11039
Hermes
P4 "Gondra"
P4 "Stage"
Osaka Transformer Co.,Ltd.
53.00
50.00
28/12/35
TRF
24B-24B-47B-12B
11044
Crown
412 A
The Nihon Seiki Co., Ltd.
26.00
20/04/36
0-V-2
27A-26B-12A-12B
11045
Televian
M48 A
M48 B(EC-28)
Seinen-dan 4 A
Yamanaka Electric Co., Ltd.
39.5.15discontinued
38.5.15change model name
49.50
57.00
20/04/36
24/08/38
TRF
24B-24B-47B-12B
11047
Aria
470 A/B/C
Seinen 4 B
J300

Mitaka Denki K.K.

Addition
Addition
invalitation
50.00

75.00

27/05/36
37?
20/05/38
25/05/39
TRF
24B-24B-47B-12B
11048
Aria
Aria
Okada
Perry
Jyosai
100
R1
JR16
M60
No.1
Mitaka Denki K.K.
Mitaka Denki K.K.
Mitaka Denki K.K.
Okada Shoten
Imamura Denki K.K.
Jyosai Radio-sho Kumiai
31.00
34.00
27.50
27.50
27.50
27/05/36
0-V-2
27A-26B-12A-12B
11050
Nanaola
85

Nanao Radio Co., Ltd.

Specification change.
52.80

20/06/36
24/08/38
TRF
24B-24B-47B-12B
11054
Sharp
48
55
Hayakawa Metal Works
48.00
50.00
20/06/36
TRF
24B-24B-47B-12B
11059
Takachiho
303
Houden Company
550-1400kc
26.00
20/06/36
0-V-2
27A-26B-12A-12B
11066
National
K-5
Matsushita Radio MFG Co., Ltd.
27.00
30/09/36
0-V-1
24B-47B-12B
11071
Ergo
300
Kimura Denki K.K.
36.12.23Revocation by Violation

28.00
12/11/36
0-V-1
57-47B-12B
11072
Concertone
RM24
type 1/2/3
Tiger Electric Co.
30.00
12/10/36
0-V-1
24B-26B-12A-12B
11080
Televian
     Kumaden
M4B5  Toho
Yamanaka Electric Co., Ltd.
25.00
15/02/37
0-V-2
27A-26B-12A-12B
11086
National

Sister
R-48

S-480

Matsushita Radio MFG Co., Ltd.

Specification change.
Price change
Addition

Discontinued
50.00

62.00
48.00
17/06/37
02/11/37
16/08/38
28/01/38

05/06/39
TRF
24B-24B-47B-12B
          12F
11091
11092
Hermes
24M
24F
 24F to 24H
 24M to 24R
 24R Price change
 24R to 25R
 25R Price change
Osaka Transformer Co.,Ltd.




price change

32.00

35.00

35.00

43.00
17/07/37

25/11/37
unknown
20/05/38
22/08/38
22/09/38
0-V-2
24B-26B-12A-12B
Changed from 12B into 12F

11099
11100
Nanaola
50 A
50 B
Nanao Radio Co., Ltd.

Price change
27.00
33.00
11/12/37
24/02/38
0-V-2
56-26B-12A-12B
Changed from 12B into 12F
(date: unknown)
11101
Sharp
57
58
58B
Hayakawa Metal Works Co.,

Price change
Price change
Price change
50.00
55.00
60.00
67.00
11/12/37
07/03/38
27/10/38
01/06/39
TRF
24B-24B-47B-12B
11102
11103
Concertone
M5
Tiger Electric Co.
Circuit & parts changed
Price change
45.00

62.00
27/12/37

14/09/38
TRF
24B-26B-12A-12B
Changed from 12B into 12F
(date: unknown)
11104
11105
Sister
National
S-360
K-360
Matsushita Radio MFG Co., Ltd.


Price change
Expired
33.00

45.00
33. 2.16

38.8.24
40.3.31
0-V-2
24B-26B-12A-12B
11106
Crown
480
The Nihon Seiki Co., Ltd.

Price change
31.00
39.00
12/03/38
20/07/38
0-V-2
24B-26B-12A-12B
11107
11108
11109
11110
11111
Televian
M4C5
EC25
Toho 2
Kumaden 38
Yamanaka Electric Co., Ltd.

Price change
30.00
40.00
08/04/38
24/08/38
0-V-2
24B-26B-12A-12F
11112
11113
Nanaola
75 A
75 B
Nanao Radio Co., Ltd.

Price change
33.00
37.50
11/05/38
24/08/38
0-V-2
24B-26B-12A-12F
11118
Victor
R-101

5R-10
Victor Talking Machine Co., of Japan

Price change
Cabinet & model name changed
Price change
Price change
75.00
80.00
87.00
98.00
108.00
13/06/38
10/38
23/12/38
28/04/39
31/07/41
TRF
58-24B-24B-2A5-80
11123
Televian
D14
E4
E11
Yamanaka Electric Co., Ltd.


D14,E4->E11
Price change
Expired
66.00
75.00

78.00
30/06/38
24/08/38
07/02/39
08/05/39
30/09/40
TRF
58-57-47B-12F
11124
Victor
R122(JR-122)
Victor Talking Machine Co., of Japan

Price change
Price change
97.50
130.00
140.00

10/08/38
16/08/38
12/10/38

Super
58-2A7-58-2A6-2A5-80
11128
Victor
4R-10
Victor Talking Machine Co., of Japan)
Dynamic speaker
78.00
09/10/39
TRF
58-57-47B-12F
11129
Victor
6R-70
Victor Talking Machine Co., of Japan
185.00
09/10/39
Super
58-2A7-58-2A6-2A5-80
11130
Victor
5R-70
Victor Talking Machine Co., of Japan
155.00
06/03/1940
Super
58-2A7-57-2A5-80
11131
Victor


6R-75
6R-80
Victor Talking Machine Co., of Japan



Cabinet & model changed
Expiry date extended
207.00


31/03/40
42?
31/03/44
Super
58-2A7-58-2A6-2A5-80
11132
National
Kokumin 7
Matsushita Radio MFG Co., Ltd.
171.80
11/12/42
Super
58-2A7-58-2A6-2A5-80
11133
Hermes
KS-6
Osaka Musen Co., Ltd.
Last Approved until 1945
171.80
31/03/43
Super
58-2A7-58-2A6-2A5-80